Convert MP3 to ZIP
You can convert mp3 audio format to zip as well as to variety of other audio track formats with free online converter.
How to convert mp3 to zip?
Step 1
Upload mp3-file
Select mp3 file, which you want to convert, from your computer, Google Drive, Dropbox or drag and drop it on the page.
Step 2
Convert mp3 to zip
Select zip or any other format, which you want to convert.
Step 3
Download your zip-file
Wait till your conversion process will be completed and click download converted zip file.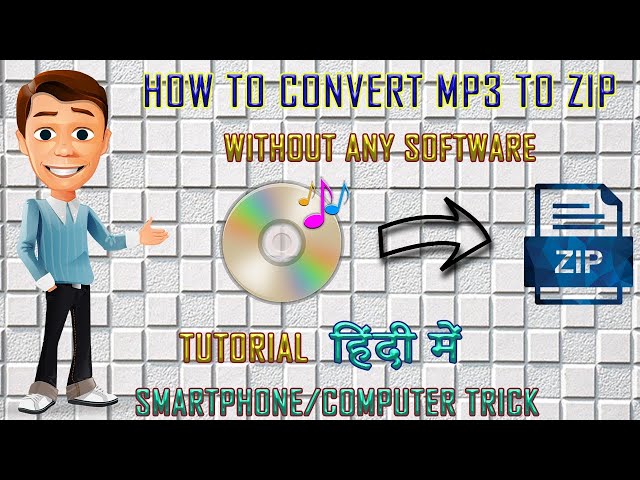 Converting mp3 to zip
Just drop your mp3 files on the page to convert zip or you can convert it to more than 250 different file formats without registration, giving an email or watermark.
We delete uploaded mp3 files instantly and converted zip files after 24 hours. All files transfer with secured an advanced level of SSL encryption.
You don't need to install any software. All mp3 to zip conversions make in the cloud and don't use any resources of your computer.
MP3 Audio File
Extension
.mp3
Category
🔵 audio
Programs

🔵 Microsoft Windows Media Player

🔵 VLC media player

🔵 MPlayer

🔵 jetAudio

🔵 Zune

🔵 Audacity

🔵 Apple iTunes

🔵 Plex Media Center

🔵 Amarok

🔵 Xine

🔵 Totem

Description
🔵

MP3 is one of the most popular coding formats for digital audio. For many music lovers, there is more to MP3 than just validating the sound of the songs they like.

Here are some of the characteristics and advantages of using MP3:

MP3 files are compressed audio files, which mean that they can be easily distributed across different devices.
Because of the smaller size of the files, there is little or no loss in sound quality.

Technical details
🔵

How to create and how to open an MP3 file

Do you want to create a new MP3 file instead of downloading one from the Internet? Have you already created one, but you are not sure of how to access or open it?

Here are some tips to get you started.

How to Create an MP3 File

Creating an MP3 file is easy. You can use software or the tools available on your smartphone and computer.

The most popular way for creating an MP3 file is to use the built-in microphone on your computer. To locate the microphone, enter the search term "Sound Recorder" on your computer's search bar. Record your message or voice note. After that, you can save it as a WAV file before looking for software online to convert it to an MP3 file.

Tools Used to Open an MP3 File

After converting the recording you made from a WAV file to an MP3 file, you can use your Windows Media Player to open it.

Alternatively, you can use many other tools and programs to open your MP3 file. Some of the popular ones are:

1. VLC Media Player
2. Winamp
3. GOM Media Player

Which other formats MP3 can be converted into and why

MP3 is not the only format for digital audio sounds. It will interest you to know that most music lovers prefer alternative digital sound formats to MP3 because the latter is roundly claimed to have a lower audio quality because of the decreased size of the audio file.

With that being said, here are some of the alternative formats that MP3 files can be converted to:

1. AAC
2. MPEG-H 3D Audio
3. WMA
4. WAV
5. OGG

AAC is the most popular digital audio format for MP3 files because it has a better sound quality than MP3. That is because it can conveniently handle sample frequency up to 48 channels.

You need to perform format conversion for MP3 so you can enjoy better studio quality that is better than the compressed audio quality that MP3 offers.

Developer
🔵 Moving Picture Experts Group
MIME type

🔵 audio/mp3

🔵 audio/mpeg3

🔵 audio/mpg

🔵 audio/mpeg

🔵 audio/x-mpeg

🔵 audio/x-mpeg-3

🔵 audio/mp3

🔵 audio/x-mpegaudio

🔵 audio/x-mpg

🔵 audio/x-mp3
ZIP compression
Extension
.zip
Category
🔵 archives
Programs

🔵 StuffIt

🔵 WinRAR

🔵 Winzip

Description
🔵

ZIP is an archive format that allows you to compress one or more files or directories to save more space. The compression is lossless and you can unzip to regain the original size.

ZIP uses many compression algorithms including the popular DEFLATE compression and is used to reduce the total size when sending files over the internet. You can also zip files to save more disk space, which is ideal for portable device users. ZIP files also support encryption and split archives, offering a perfect way to organize and store your files.

Technical details
🔵

How to create and how to open an ZIP file

ZIP files are easy to create on Windows and Mac computers. Simply highlight all the files you want to zip, right click and select "Send to" then "Compressed ZIP Folder" on Windows. You can also zip files using a zipping software application, although you don't need any additional software to compress your files into a zipped folder.

Opening a ZIP file is as effortless as double clicking the folder and opening the individual files or folders in the zip. However, some folders require an unzipping too to extract the files. To open the documents or files in a zipped folder, right click on the zipped file and select "Extract All" which will decompress the files to their original sizes.

Which other formats ZIP can be converted into and why

You can convert files with a ZIP extension to several other zipped and unzipped formats. The popular conversions include

1. RAR
2. TAR
3. 7Z
4. TAR.GZ and TAR.B72

Most people compress files into a zipped folder to save space without losing data. For instance, if you want to send many audio, video or image files over the internet, you can compress them into a ZIP folder to reduce the total size and bandwidth required. However, zipped folders have many other benefits including better encryptions and archiving.

You can convert a ZIP file into a RAR if you want a better compression rate. However, there's little to distinguish between most zipping formats. Zipped folders are ideal when you want to create an archive or store files on a portable device. You can also zip files to create an executable as ZIPs are actually executable.

Developer
🔵 PKWARE
MIME type

🔵 application/zip

🔵 application/x-zip

🔵 application/x-zip-compressed

🔵 application/octet-stream

🔵 application/x-compress

🔵 application/x-compressed

🔵 multipart/x-zip
FAQ
❓ How can I convert mp3 to zip?
Firstly, select a mp3 to zip file you want to convert or drag and drop it. Secondly, select a format you want to convert your file to. Then click convert and wait until your file is converted
⏳ How long should I wait to convert mp3 to zip?
Images conversion usually takes a few seconds. You will convert mp3 to zip very quickly.
🛡️ Is it secure to convert mp3 to zip on OnlineConvertFree?
Sure! We delete your uploaded and converted files, so nobody has access to your information. All types of conversion on OnlineConvertFree (including mp3 to zip) is 100% safe.
📱 Can I convert mp3 to zip without software installation?
Absolutely! OnlineConvertFree doesn't require installation. You can convert any files (including mp3 to zip) online on your computer or mobile.